KleerFlex Door
$126.00 – $594.00
Description

Try the KleerFlex™ door at the end of barn aisles, on exterior stall doors that lead to turnout, on loafing sheds, wash stalls, tack room and more. Unlike regular doors that must be open or closed, the KleerFlex™  door is always both. Your horses can choose to be warm and snug in their stall on winter nights, or walk outside for a breath of fresh air. You can zip in and out pushing wheelbarrows, leading horses, and going about your day without pause.
It's easy to train horses to walk through KleerFlex™. Most get the hang of it immediately, and even the most skittish ones generally learn to be brave in just a few short sessions.
Universal galvanized hardware and easy instructions mean just 20 minutes to install. KleerFlex™ has UV inhibitors to prevent discoloration from sunlight, and will remain flexible at -40° F.
KleerFlex™ is sold in full installation kits that includes all necessary hardware, or in replacement strip packages.
KleerFlex™ Size
KleerFlex™come in widths of 3′ to 8′ wide. For wider doorways, simply order the combination of widths that best suits your needs, and install end-to-end for continuous coverage. For example, a 12′ wide doorway might take two 6′ installation kits. If your doorway isn't these exact widths, round up to the nearest foot and either mount outside the jamb or trim the bracket down to fit inside the jamb. It's easy!
For your convenience, KleerFlex™ doors are available in regular heights of 7′, 8′ and 9′, and tall heights of 10′, 11′ and 12′. If you need an in-between size, order the next size up; the strips are easy to trim shorter with a sharp utility blade. For tall doorways that are more vulnerable to windy conditions, the strips are slightly thicker and heavier to ensure adequate protection.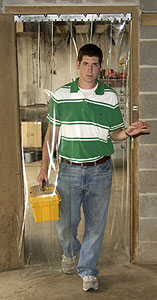 Use it as a stall door. Use it anywhere you want to control temperature, dust and noise. KleerFlex gives you great flexibility with hands-free operation. Features easy to install exclusive patented hardware system available in our standard durable HTP® hardware or optional heavy duty aluminum.
This product features a 1-year guarantee.


(Standard Hardware)


(Aluminum Hardware)