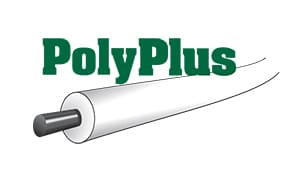 PolyPlus HTP® is permanent fencing that uses a 12.5 gauge pre-straightened galvanized high-tensile wire embedded in a tough HTP® polymer coating to produce a safer and more visible wire fence.
PolyPlus HTP® installs like high-tensile wire and is engineered for durability, resistant to wear and withstands extreme temperature ranges. It is effective in high-tensile installations regardless of overall fence length.
Centaur® is the inventor of High Tensile Polymer (HTP®), a material that is a blend of impact modifiers, UV stabilizers, and anti-fungicides. Formulated for strength, durability and appearance, HTP® fencing material is stain and mildew resistant.
Withstands expansion rates due to temperature changes
Unique single-strand fence rail using 12.5 gauge galvanized hightensile steel wire embedded in a tough HTP® Polymer coating
PolyPlus HTP® is manufactured in Muscle Shoals, Alabama
Fence life is 20+ years with a 20-year limited warranty
PolyPlus HTP® coated high tensile wire is easily combined with other Centaur fencing to fit your budget or design needs.
Specifications
| | |
| --- | --- |
| Fence | PolyPlus |
| Roll Length | 1320′ |
| Colors Available | White, Black, Brown |
| Break Strength | 1400 lbs |
| Warranty | 20 Years |
| Electric or Non Electric | Non Electric |
| Total Width | 5/16″ |
| Post Space Recommended | 12′ |
| Post Type | Wood, T-post, Fiberglass |
| Cost | Approximately .12/ft plus accessories |
| Samples Available | Yes |