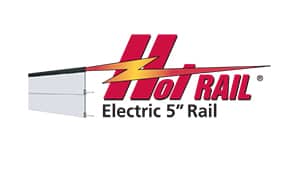 Hot Rail® Electric HTP® 5″ Rail is an innovative fencing product that combines the patented Centaur® HTP® technology with electric fencing properties, significantly reducing installation time.
This attractive rail utilizes insulated brackets for easy installation.
By combining electric properties within the rail, Hot Rail® protects your horse without the need for a separate hot wire that can slice a horse like a knife.
Hot Rail® Electric HTP® 5″ rail withstands impact without risking injury to your horse. HTP® technology combines the pliability of polymer with the strength of high tensile, creating a rail that is safer, stronger and more flexible, helping reduce horse injuries on your farm.
Specifications
| | |
| --- | --- |
| Fence | Hot-Rail |
| Roll Length | 660′ and 330′ |
| Colors Available | White, Black, Brown |
| Break Strength | 4050 Ibs |
| Warranty | 30 Years |
| Electric or Non Electric | Electric |
| Total Width | 5″ |
| Post Space Recommended | 8′, 10′, 12′ |
| Post Type | Wood |
| Cost | Approximately 1.15/ft plus accessories |
| Samples Available | Yes |