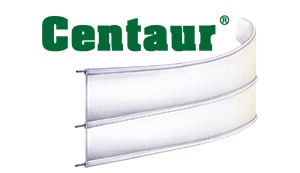 Centaur® HTP® has the traditional look of board fence without the high maintenance costs. Created from a blend of virgin polymers, embedded with three strands of 12.5 gauge wire, Centaur® HTP® is a superior flexible fence that is safer than wood, wire or vinyl.
Bottom line: Centaur® HTP® is Safer for Horses
Withstands expansion rates due to temperature changes
Each rail is installed in a continuous length allowing impact to be absorbed by the entire length of the fence
Centaur® HTP® 5″ Rail is manufactured in Muscle Shoals, Alabama
Centaur® HTP® 5″ rail is easily combined with other Centaur rail and strand fencing to fit your budget or design needs.
Specifications
| | |
| --- | --- |
| Fence | Centaur HTP |
| Roll Length | 660′ and 330′ |
| Colors Available | White, Black, Brown |
| Break Strength | 4050 Ibs |
| Warranty | 30 Years |
| Electric or Non Electric | Non Electric |
| Total Width | 5″ |
| Post Space Recommended | 8′, 10′, 12′ |
| Post Type | Wood |
| Cost | Approximately .99/ft plus accessories |
| Samples Available | Yes |