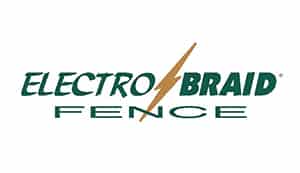 What is ElectroBraid™?
ElectroBraid™ is a permanent electric fence designed especially for horses. It is both a physical barrier and a psychological deterrent. It is highly visible to horses, strong, durable and resilient. Most important, it is so safe that the Company can offer a limited Safety Warranty against horses getting injured.
What does it look like?
ElectroBraid™ looks like high quality braided yachting rope. A double helix of copper wire conductors is braided into the outer jacket of the rope. 3 or 4 strands of Braid™ of ¼ inch diameter are mounted on electrical insulators on fence posts. Fence posts can be wood, vinyl, steel or fiberglass, spaced 30 to 50 feet apart. The Braid™ comes in white, black or speckled.
Specifications
| | |
| --- | --- |
| Fence | ElectroBraid |
| Roll Length | 1000′ |
| Colors Available | White, Black, Checkered (Black & White) |
| Break Strength | 600 lbs |
| Warranty | 25 Years |
| Electric or Non Electric | Electric |
| Total Width | 5 mm |
| Post Space Recommended | 50′ or less |
| Post Type | Wood, T-post, Timeless T-Posts, Fiberglass |
| Cost | Approximately .17/ft plus accessories |
| Samples Available | Yes |